WEEKDAYS 6–12 PM
WEEKENDS 6 – 1 AM
Hours
Sun–Thu: 5:30 – 10pm
Fri–Sat: 5:30p – 11pm
Rooftop open daily, weather permitting 5:30 until late

Address
234 Starr St.
Brookyn, NY 11237
Just off the Jefferson stop
on the L Train
Open Now!
The Turk's Inn
is your vacation destination
in Bushwick, Brooklyn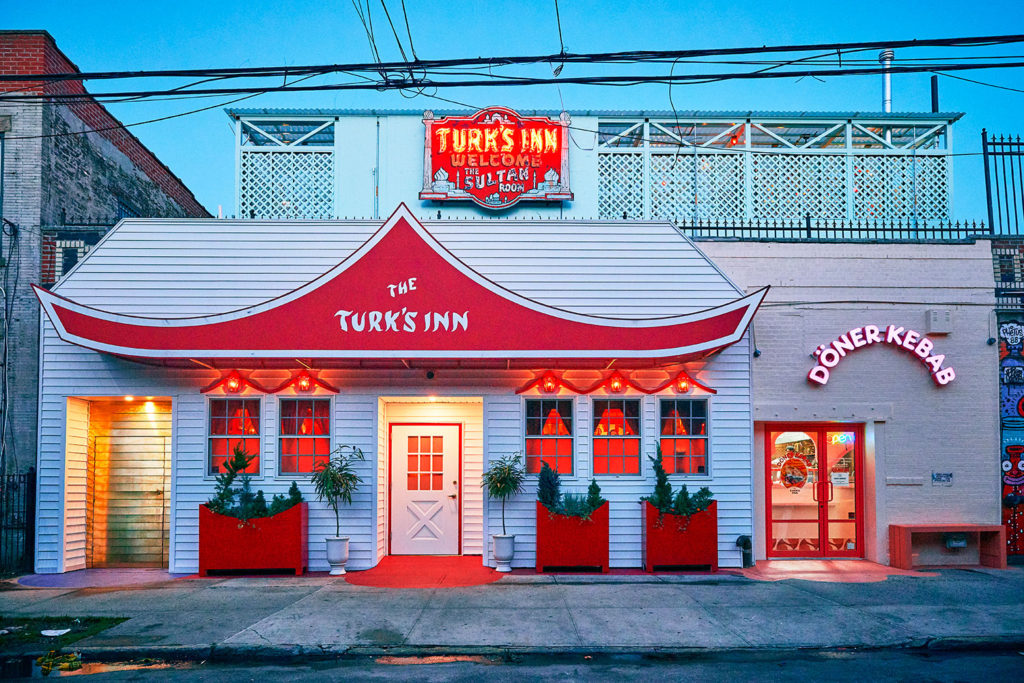 Enjoy fine dining in The Gogian Room, serving
American classics alongside specialities of the Silk Road
to be accompanied with your favorite cocktail or wine.
Something for all tastes and preferences. 
The Sultan Room
The Sultan Room is a state-of-the art space for music, performance and events. Built for intimacy and excitement, the room will transport you to another world.
Kismet Garden
The rooftop Kismet Garden is your place for snacking al fresco, or simply enjoying your choice of  beverage in the company of friends under the embrace of the cool night air.
Kebab Kiosk
And when time is tight and you've got to eat on the run, the Kebab Kiosk is there for you serving Döner Kebab, fries and other delicious snacks and sides. Vegetarian, vegan, and gluten free options available.
Suitable for all needs and every occasion,
 the Turk's Inn is "A World Unto Itself" made just for you…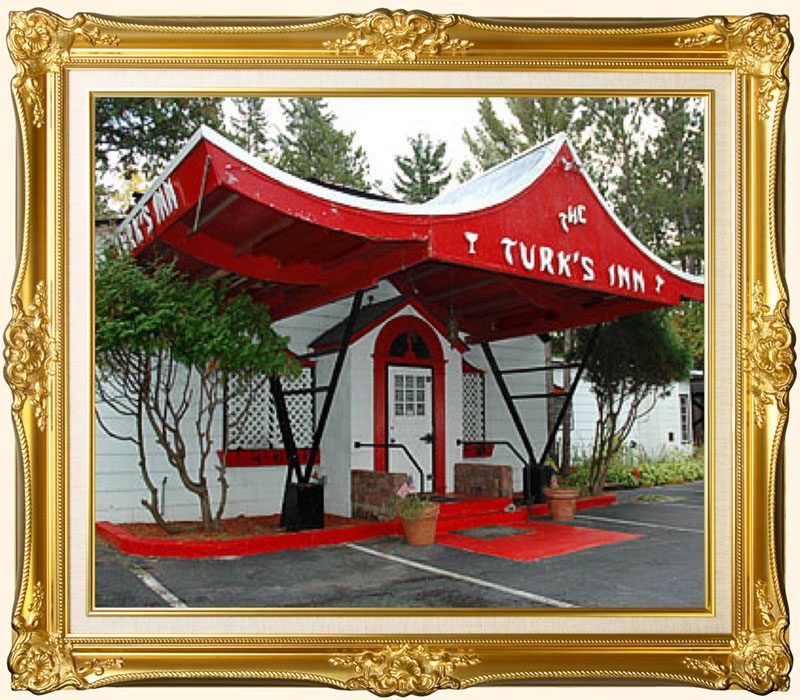 HISTORY OF THE TURK'S INN
Since 1934
The Turk's Inn was founded in 1934 by George and Isabella Gogian in Hayward, Wisconsin, a small wooded town situated on the Namekagan River. In its 80 years in business, the legendary supper club hosted politicians, cultural luminaries, cross-country ski racers, and vacationers of all stripes who came to enjoy classic cocktails, steaks and Turkish fare in a lush Arabesque setting.
A night at Turk's was an enchanting affair full of surprises and delights, whether it was an encounter with one of the live peacocks that roamed the grounds or a belly dancer shimmying on a tabletop.
In 2015, upon the passing of Beatrice "Marge" Gogian, the founders' only daughter, Turk's closed its doors. It was then that Tyler Erickson and Varun Kataria, long-time patrons, sought to keep the spirit of Turk's alive. The two took the entire contents of the establishment and moved it to Bushwick, Brooklyn to give the Turk's Inn a second life and create magical evenings for a new generation of revelers.
FAQ
Thank you for your interest in dining at The Turk's Inn!
For parties of eight or more guests and for special events, please email us at: [email protected]
We are able to accept a very limited number of reservations for parties up to 6 guests through Resy. We welcome you to visit without a reservation as we keep most of our tables available for walk-in guests.
If there is a wait, "Don't worry bout!" We'll gladly take your name and number at the host stand and text you when your table is becoming available. Our rooftop is a lovely place to enjoy a cocktail while you wait for a table.
We seat parties in the order that they are complete. Incomplete parties or those more than fifteen minutes 
late may forfeit their reservation. Should this occur 
our hosts will do their best to accommodate your party as 
soon as possible.
For large parties, we require a shared set menu. Any cancellations 48 hours before your reservation or day of will result in a $25 per person fee.
We look forward to having you!
The Turk's Inn is located of the Jefferson stop of the L Train. We do not offer valet. There is street parking located around the restaurant.
We are an accessible facility. We have wide entry doors with no steps or obstructions and a lift to the rooftop. We seek to accommodate all guests, whatever their needs may be. Please do not hesitate to get in touch with any questions or concerns [email protected].
We have a plethora of options for guests with unique dietary needs, preferences and restrictions. Please reach out to [email protected] with any questions or requests.